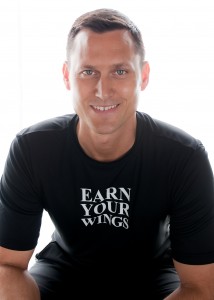 I have many people ask me this question every week. What I tell them is that there is no "best" exercise. All exercise is good. You just have to find the "best" exercises that suit your needs, physical fitness level, and lifestyle. For me, the best exercise is jumping rope.
I've been jumping rope for 20 years now. I had gotten out of the Marine Corps and got a membership at my local Bally's Total Fitness. My first day working out there I saw a gentleman in the aerobics studio jumping rope all by himself. I watched him in awe. The way he moved.  Swift, steady, precise, and rhythmic. I had visions of watching the movies Rocky, Rocky II, and Rocky III from when I was a kid. Trying not to disturb this obviously "in-shape" man, I entered the aerobics studio, picked up a jump rope, and attempted to jump rope on the opposite side of the studio. I thought, "I'm a Marine, if he can do this so can I". Ha! My attempts to find rhythm, steadiness, and precision were replaced with clumsiness, stumbling, and continued misses on the jump. I felt a little embarrassed, especially since we were the only two in the studio.
The expert rope jumper obviously watched me struggle and stopped to offer advice. He gave me these 3 following tips:
Start slow and low – "Low" meaning you should not jump high when jumping over the rope. You should jump just high enough to get the rope under your feet. "Slow" meaning when you are first starting out with this endeavor go slow to get the rhythm, coordination, and reaction time when the rope is coming around.
Keep your body tight – "Tight" meaning keep your arms and shoulders tight and let the rope turn from the wrists. Don't waste energy moving your arms in big circles. The more movement you have, then the quicker you will burn yourself out.
Start with the most basic foot work that you learned as a kid – Meaning just try skipping over the rope. Don't try the fancy "Rocky" moves right away. You must get a feel for the rope and learn timing and coordination. Once those 2 things are accomplished, then move on to more advanced foot work and speed.
Those 3 tips were just the beginning for me as they are for everyone else that has learned that jumping rope is much more than just skipping and jumping for 30 to 60 seconds at a time. Over 20 years of training with the rope, I have developed skills that are very advanced. Not only has my reaction time, coordination, agility, and speed increased, but I've found that my muscular endurance and cardiovascular endurance has drastically improved also. I can easily jump rope at a high intensity level for 30 minutes now. Jumping rope can get boring just like any other cardiovascular exercise, but once you know a good routine of tricks, foot work, and movement, you'll find that it is not boring at all. Quite the opposite!
You will certainly see the following improvements when you add jumping rope into your daily exercise program along with practicing healthy eating habits:
Improves overall body composition by decreasing body fat, increasing muscle mass, and increasing weight loss (health-related component of physical fitness)
Increased cardiovascular endurance (health-related component of physical fitness)
Increased muscular endurance (health-related component of physical fitness)
Increased agility (skill-related component of physical fitness)
Increased coordination (skill-related component of physical fitness)
Increased reaction time (skill-related component of physical fitness)
Increased mental focus
Increased speed (skill-related component of physical fitness)
So, my best exercise is jumping rope. It improves 7 of the 11 components of physical fitness. It is a total body workout. It is challenging. Most importantly, jumping rope is fun! Thank you to that expert rope jumper I met at Bally's. If it wasn't for him, I may have given up and never found my "best" exercise.