I meet several people in any given week that want exercise advise. The number one question I get is, "What's the best exercise?" My response is always, "There is no best exercise, any exercise is great if you do it consistently." If you have read my other blogs, then you know that I believe consistency with exercise and eating a healthy diet throughout your life is most important. So, be consistent with this following work-out and you'll be sure to shed pounds (if you need to), increase strength, and improve your cardiovascular conditioning (including the other 9  components of physical fitness)…
Be sure to do a 10 minute warm-up before performing this work-out (i.e. walking, climbing stairs, elliptical machine). As always, consult with your physician before doing any exercise program and always monitor your heart rate to keep it within your target heart rate zone.
This is a HIGH-INTENSITY short work-out that should only take 15 minutes for beginners and less than 8 minutes for more advanced. The only equipment you need is your body weight!
READY!? Begin,
1. 10 Jumping Jacks
2. 5 Push-Ups (do all with trying to get your nose to the floor)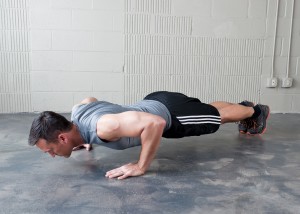 3. 20 Mountain Climbers
4. 5 Burpees/Squat Thrusts
5. 10 Body Weight Squats (do all with your hands behind your head)
6. 20 Jumping Jacks
7. 10 Push-Ups
8. 40 Mountain Climbers
9. 10 Burpees/Squat Thrusts
10. 20 Body Weight Squats
11. 30 Jumping Jacks
12. 15 Push-Ups
13. 60 Mountain Climbers
14. 15 Burpees/Squat Thrusts
15. 30 Body Weight Squats
THAT'S IT! If you completed this in 10 minutes or less and kept your heart rate in your target heart rate zone, then you are in excellent shape (my first time doing this quick circuit was 6 minutes 47 seconds)! If you found this challenging and went over the 15 minutes, that's o.k.! Keep working at it. Do this work-out every other day for 4 weeks and you'll certainly see improvements in your fitness level.