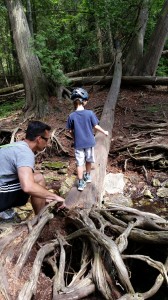 Those three simple words are a huge part of a very active three day vacation my family and I took at Mackinac Island recently. If you've been to the island, then you know that one of the "must do" activities is to ride bikes around the 8 mile coast of the island. Most people take a nice leisurely jaunt, looking at nature, wildlife, spectacular settings, and history on the island. Not my family, remember we have a former Marine and personal trainer in charge for this expedition. We mount our bikes and the first words out of my mouth are, "NO ONE PASSES!" Now, my wife and boys already know the meaning of these three words. We will be going the fastest we can with little breaks. We are on a mission to get around this island with no other bikers passing us.
I can't help myself. If we're going to be riding bikes, then we must go as fast as possible, pushing ourselves. I see this as a great way to take in nature and the sights and get a great work-out in. Of course no one passed us. Except for those times when we did stop to build rock pyramids, climb to the top of arch rock, and check out the battlefield and cemeteries.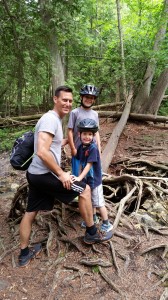 The Angel Family vacations are always full of physical activities that my boys, ages 9 and 5, can participate in. I believe that if you, the parents, are physically active, then your children will be too. Biking around Mackinac Island is one of several activities we love to do with our boys in order to keep them physically active. When we travel Up North or when we are just hanging out in our backyard during these warm months we also:
play football – great for overall conditioning of the body
run and chase (especially difficult in knee high water at the lake) – excellent for strengthening your legs and cardio conditioning
throw the Frisbee – great for improving hand/eye coordination and reaction time
swim – again, great for overall body conditioning
play paddle ball – excellent way to improve agility, quickness,  coordination, and reaction time
play baseball – fun way to get out and run and develop overall sports-related skills
Staying active throughout your vacation is a great way to keep unwanted pounds off, helps to keep you motivated, and also shows your kids that exercise can be fun. For me, the best part of our vacations is just being with with my wife and kids. Next activity, Marine Corps obstacle course in our backyard! DROP AND GIVE ME TWENTY!!