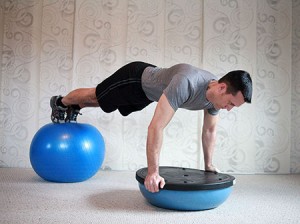 You don't have to have a big, fancy, expensive gym in your home to get a great work-out and see results. Yes, I must admit that having a Hoist V6, a top-of-the- line Octane, and chrome dumbbells that go up to 200 lbs would be awesome. But, let's be realistic. Most of us can't afford this type of fitness equipment nor do we have the space for it in our homes or apartments. What if I told you that you can get a great in-home gym for less than $200.00. Most of you wouldn't believe me. Some of the best exercise equipment you can buy is relatively inexpensive and can be stored away in a closet or under a bed after being used. I emphasis "being used", because you must get the equipment out and actually utilize it. I'm going to recommended some of the key items you should have in hand in order to get your body in the best shape by summer. You need to get the motivation and desire to change your body now. Not in a week, or in a month. Now is the time!
The LIST:
1. Jump Rope – This is an old school exercise that does not require a lot of space. A good jump rope can cost approximately $15.00 at any sporting goods store.  Jumping rope is a GREAT way to improve cardio conditioning and burn a lot of calories in a short period of time. This is my favorite exercise to do in order to stay lean.
2. BOSU – Great piece of equipment that is the size of a half of a 55 cm Fit-Ball. It is dome-shaped and can be used with both sides up (see our BOSU YouTube video). I always emphasize core strengthening and the BOSU is one of the best items to help you do just that. Exercising on a BOSU will improve balance, endurance, and overall body strength when utilized properly. The BOSU costs approximately $115.00. Slightly expensive, but well worth the investment when you use it 3 times a week.
3. Dumbbells – A set of light-weight hand-held dumbbells adds the resistance you need in order to improve strength and develop muscle definition. I recommend a set of dumbbells that range from 5 to 10 lbs for women and 8 to 15 lbs for men. I am not recommending heavy weights for the exercises I teach. Multi-muscle group exercises consist of light-weight high-repetition movements that are designed to significantly increase one's heart rate and incorporate several of the 11 components of physical fitness (visit our YouTube channel for examples). A set of light weight dumbbells including 3 different weights will cost approximately $50.00.
4. YOUR BODY – You need to get your body up and moving in order for any of the above equipment to work properly. Find the motivation deep down inside and start moving. The best part of this last piece of equipment is that it is FREE!
Total Cost for your new in-home gym: $180.00
Piecing together an exercise routine with this minimal amount of exercise equipment may seem difficult. However, if you are serious about getting in shape, you must educate yourself. Watch exercise videos, read exercise/fitness books, or hire a personal trainer just for a few sessions to learn a few basic exercise routines. The information is out there. You need to take the time to find it and get the motivation to start your exercise program. Now is the time to get ready for summer and change your body. Get Moving!