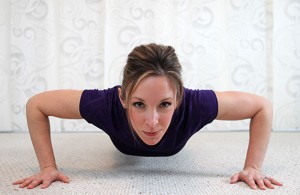 Oh how I miss the fat-free diet days.  Purchase an extra-large bag of Gummie Bears before ENG 200 and eat the whole thing during the three hour lecture.  Dine on an entire box of pasta but top it with caution because spaghetti sauce has one gram of fat per serving.  Eat the meatball?  No way!  But pass that fat-free box of wine.
It was during this "health-craze" that my friend ironically complained, "I can't lose weight no matter how many fat-free cookies I eat."  We found it surprising that despite the extra large portions of fat-free snacks, dinners, and alcohol, we had both packed on the freshman 15 and then some.  At the time I chalked this up to the idea that diets don't work for me.  I decided I was just one of those unlucky people who can't lose weight.
I had a similar problem when I was pregnant for my first child and gaining weight rapidly.  By week twenty I was up 30 pounds.  My doctor, so rudely, questioned me about my weight gain.  So, I explained to him that I had been eating really healthy: whole grain muffins, full-fat yogurt, lots of cheese.  His response, "Well, if you eat two bushels of apples a day, you're going to gain weight.  It's still calories."  Not the wisest thing to say to a fat and crabby pregnant lady, but I got the point.
As much as I may wish it was otherwise, calories count.  The fat-free diet was yet another example of me wanting an entire fat-free cake and eating it, too.  I want to be able to over indulge without consequence.  If fat was the enemy, then I could gorge myself as long as I avoided it.  Or, when carbs became the problem, I happily lived on brie and filet mignon.   But really, did I honestly think that was the answer?
As disappointing as it is, eliminating any one food group will not magically result in weight loss.  So here's the TRAINER'S TIP:  EVERYTHING IN MODERATION.  At first I found this punishing. ("You mean I can't eat this sleeve of reduced fat Chips Ahoy before bed?")  But now I see this philosophy is actually liberating.  That's because the word EVERYTHING comes right before MODERATION.  So instead of focusing on the limit, I can choose to enjoy the variety.  A small slice of a homemade brownie is so much better than an entire fat-free one wrapped in plastic.  So the trick is to embrace the joy of really eating whatever you want…just not as much as you may want.